Thursday, June 18, 2009
The Waiting Game
only a day away...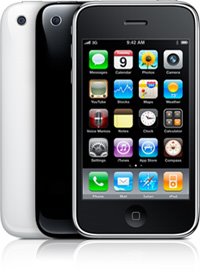 Tomorrow (Friday, June 19, 2009), my patience will finally pay off.
The first iPhone was released on June 29, 2007. A little over a year later, on July 11, 2008, Apple released the iPhone 3G along with the ability to run iPhone OS native Applications (Apps) purchased from the App Store via iTunes. Then again, Apple updated the hardware and announced the iPhone 3G S on June 8, 2009, with an unprecedented release date of June 19, 2009.
I've been with AT&T since January of 2000. Which means, I was there when the company switched from BellSouth Mobile to Cingular; when Cingular bought out AT&T wireless; and when AT&T reacquired its cellular services by taking over Cingular. I've had 2 different Nokia phones and 3 different Motorola phones. All of which have served me well. The last one, my RAZR being my pocket companion throughout my desire for the iPhone.
When my 2 year contract was up, I started getting wind that Apple would soon release new hardware. So I waited.
My patience was rewarded on June 8, 2009, during the Keynote presentation at the WWDC 2009 in San Francisco, when Apple announced the iPhone 3G S. I ordered my phone on Apple's website that night, and it has been a torturous two weeks.
Tomorrow, Fed Ex will deliver my new iPhone to my apartment. And my patience and loyalty will not have been in vain.
Labels: geekery
posted by: Scott »
11:59 AM
|
0 comments
Tuesday, June 09, 2009
St. Louis: Work So Far
working beneath the stainless steel arch.
I've been in St. Louis for 6 1/2 weeks, now. I've worked hard, and tried to play just as hard.
Little Shop of Horrors
opened at the end of May to great success. The show is really fun, energetic, and the music is VERY catchy. It's one of those shows that I have a difficult time getting tired of.
There are some really neat elements to the show. Obviously, the man-eating-plant is a sight-to-beheld. Lighting-wise, there wasn't a lot of neat effects that we had to mess with. The stand-outs are the giant LITTLE SHOP OF HORRORS sign that lights up and changes colors, and various windows that light up. A big project that I wired up were a bunch of solenoids, which are electro-magnetic actuators, that release vines all around the theater house for the big finale of the show.
Since
Little Shop
opened, the build crew has been busy at work on
The Drowsy Chaperon
. This week, the lighting crew gets a hold of it. Apparently there's fiber-optics on a bunch of the walls. We used Fiber last year on ALL of the walls for
Joseph and the Amazing Technicolor Dreamcoat
. The effect actually got "oohs" and "ahs" and applause, something that rarely happens with lighting (in my experience).
Sunday, May 10, 2009
Toilet Epiphanies
Musings from "the can".
All bathrooms should have reading material. A magazine is preferable due to the length of its articles. A book with short chapters would work as well, such as The DaVinci Code. Nothing that you can't easily put down when "business is finished".
Wednesday, April 15, 2009
Homemade Pimento Cheese Spread
a homemade recipe.
Ingredients:
2 parts Velveeta Cheese, Chopped
1 part Sharp Cheddar Cheese, Shredded
Pimentos, Diced
Miracle Whip
Mayonnaise
Notes:
- I buy the Velveeta Cheese in sliced form and the sharp cheddar in "finely shredded" form to make things easier.
- If you're going to use 8 oz of Velveeta (the 2 parts), use 4 oz of Sharp Cheddar (the 1 part). To make more, simply use more, for example 16oz Velveeta to 8 oz Sharp Cheddar.
- Most of this recipe is based on individual tastes and hasn't be actually measured out.
Directions:
1. Chop or grate the Velveeta Cheese into tiny pieces. Grate the sharp cheddar.
2. Add Velveeta and Sharp Cheddar cheeses to a bowl.
3. Add some Miracle Whip (to taste) and stir until the cheeses are mixed.
4. Add Mayonnaise (to taste) to create a more spreadable / smoother consistency.
5. Add diced pimentos (to taste).
Serving Suggestions:
Can be used as a cracker topping, or put on bread and make a sandwich. Sometimes I like to make Ham and Pimento Cheese sandwiches. :)
Enjoy!
If you liked this recipe, or have an interesting tweak or serving suggestion, feel free to drop me a line in the comments section.
Labels: food
Monday, March 23, 2009
The New Jersey Chronicles: Part III
The Return! (dun, dun, duuuuuuun)
Originally, my flight was supposed to be leaving back out of Newark Airport on Wednesday evening. Well, since we kind of lost the first day to "travel funk" and none of us were particularly productive, Matt asked us if we'd mind staying one more night, so that we had ALL of Wednesday to work. We all agreed and Matt set to changing our flight plans. The only thing they had available the next day out was at 8:00am. Oh, and the four of us minus Tanny were flying out of Laguardia.
Tanny had his own problems. In the end, he had to take a train from Newark to Philly to catch his flight out (the connecting flight was in Newark).
So we all worked on Wednesday, and the plan was as follows:
- at 2am, we'd stop working. Tim would drive Tanny to Newark in the car I rented from there, drop the car off and catch some "zzz"s. Matt stayed to finish up some of his projects. Robert and I went back to the hotel to pack and catch an hour and a half of sleep.

- at 5am, Matt would pick Robert and I up at the hotel. Then we'd drive to the Newark Aiport to pick up Tim, who'd been hopefully catching some sleep on some seats.

- once we picked Tim up, the four of us drove to LaGuardia in the second rental car to drop it off and catch our flight out.
The plan worked pretty well, with the only hickup being we almost didn't allow enough time to drive through Manhattan. :(
We caught our flight from LGA to ORD (NY to Chicago) and Matt had actually upgraded us all to window seats so we could catch some sleep. The beautiful thing about my flight from NY to Chicago was that I had a 3 seat row ALL TO MYSELF! It was beautiful.
We landed in Chicago, looked to the big board for our flights, and luckily, mine out was in the same concourse! I unfortunately was confused by the time-zone difference for a moment and thought my plane was already boarding. So I rushed down to the opposite end of the concourse and saw that they weren't boarding for another hour. So the flight left at LOCAL time... not what-ever-time-Scott's-watch-is-set-to.
The flight from ORD to CMH (Chicago to Columbus) was another where I had the row all to myself. Which meant I had rows all to myself the whole round trip. (my two flights into Newark were smaller planes with one side only having one seat in the row)
Next... conclusions...
Saturday, March 21, 2009
The New Jersey Chronicles - part II
Getting there...
I've traveled a decent amount, I'd say, mostly by car, but occasionally by airplane. CSG was flying me out of Port Columbus International Airport with a final destination of Newark, NJ, where I was to meet up with another guy (Tanny), get a car, and head to Rockaway, NJ.
Airport:
CMH
[Port Columbus International]
First of all I woke up at 3am in order to make it to the airport by 4:30am for my 6am flight out of Columbus. Everything went smoothly, even though TSA searched my backpack since I was carrying on tools (all of which were smaller than the 7" length limit as stated on the TSA website), they were concerned about my wrench, pulled it out, and decided I wasn't a threat, returned it to the bag, and sent me on my tired little way.
The flight out of CMH was headed to Dulles (Washington D.C.). It was a short flight, very smooth.
Airport:
IAD
[Washington Dulles International]
We landed, and I look at the big board to find out what gate to catch my connecting flight to Newark. Next to my flight number and destination (in big yellow letters) it says, "CANCELLED".
Crap.
I go to the customer service kiosk, pick up the phone and work on getting a flight to Newark. The (nice) lady on the other end tells me that there's not another flight to Newark until the next day. I told her that wasn't going to work - I had to be there TODAY. Eventually (somehow) she found a flight for me leaving Dulles at 12:30pm. Originally I was supposed to be in Newark around 9-9:30am. With the new flight, I wouldn't be getting in until 2:00pm.
A flurry of phone calls were made. Three of the guys were flying into Laguardia, and Tanny and I were flying into Newark. Tanny was already at Newark, he was waiting there for when I landed so we could get the car and head to the church (30 minutes away). In the end, the solution was the guys landing in LaGuardia would swing by and get Tanny. I would grab the car when I landed and head to the church. Cool.
I grabbed my flight out of Dulles with no further incident.
Airport:
EWR
[Newark International]
Upon arrival in Newark, I grabbed my checked suitcase (which miraculously made it to Newark), and headed for the tram that would take me to the rental car place. When I arrived at the rental counter, something had gone wrong with the whole switching the reservation into my name deal, and in the end, I ended up putting the car on a credit card.
The neat thing about the place where we got the car from is when I showed the attendant my reservation, he pointed at an aisle and said, "Choose a car from this aisle."
I drove a 2009 Chevy HHR around NJ for four days. Pretty sweet.
Next... The Return Trip and conclusions.
Friday, March 20, 2009
The New Jersey Chronicles
business, no pleasure
Went to New Jersey with Church Solutions Group to work on an install for Christ Church in Rockaway, NJ. Never heard of it? Don't worry, people i know from NJ hadn't heard of it, either.
My portion of the gig was to work on the lighting system for the church. There were some ups and downs about this system.
The ups - I learned the basics of working with a new lighting console, the ETC ION. The really neat thing about it is it has touch-screen functionality. I love learning new gear and figuring out how things work, so this was really the fun part for me.
The downs - the church was going for a "broadcast" feel for their lights. They planned on broadcasting their service to a satellite location. To them, this meant all the lights needed to be white light. BORING. In addition to that, the ceilings were low which created kind of a "deer-in-the-headlights" lighting angle to the people onstage. The Senior Pastor complained about this, and so MUCH though and work went into figuring out how to keep that from happening while still getting plenty of light on the stage.
It was pretty fun. Mostly because two of the other guys who were working on the install were people from my church in Lexington who I hadn't worked with in about a year. It kind of felt like a bit of a reunion.
So that's just what was going on when I got there. I had a whole mess of problems GETTING to NJ in the first place... more on that later.